Technical data
MULTIVOIES's patent is based on the fact that Voltages are identical on every breaker in one switchboard. Thus, based on a unique Voltage (single or three-phase) probe acting also as system power supply, MULTIVOIES's concentrator transfers in real time Voltage information in numerical format to all of the current modules. During set up, the user checks and sets the correct phase for each sensor, so that power and energy samples can be correctly computed (V x I).
Computations and data storage are carried out in each current module, in order to ensure the same storage capacity whatever the number of current modules used.
MULTIVOIES's electrical safety is reinforced by the fact that dangerous voltages cannot be transmitted by the concentrator in the communication bus to the current modules and that all user interfaces are wireless.
Current and communication modules can be added on the communication bus up to a bus length of 10 meters. Thus, with 20 current modules and only one concentrator, you end up measuring 120 channels in the same switchboard.
MULTIVOIES

concentrator Voltage Supply (single or three-phase with neutral):

75-250Vac per phase.

Standard DIN Rail fit:

width 35mm – 120 gr.

Electrical Safety:

CAT III 250 V. Max. Overvoltage : 4 kVac

Electromagnetic Compatibility:

CE (CEI 61236-1, CEI 61236/A1)
MULTIVOIES

Current modules

Each Module is fitted with 6 sensors and stores Active Power data and can display in real time other values such as current, apparent power, power factor…

Dimensions L x h x l: 84 mm x 25 mm x 50 mm. Weight: 100 gr. (without sensors)
Storage capacity : 20 480 data whatever the number of current modules on the bus, i.e. 18 weeks at 10 min. time step.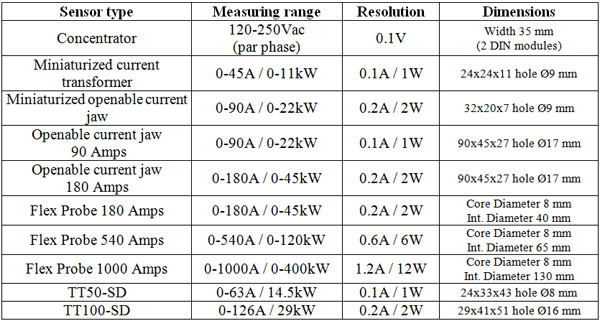 MULTIVOIES

Communication Modules

Wireless sensors for
MULTIVOIES

Radio Module 48 channels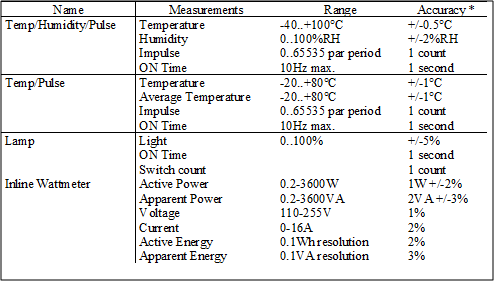 Battery life time: 2 batteries AAA. 4 years with a recording time step of 60 seconds.
Reduced life time for Pulse or Lamp sensors if the contact is on over long periods.

Sensor Enerplug (Inline Wattmeter) :
- Electrical safety: CATI 250 V. Max overvoltage : 2 kVca
- Electromagnetic compatibility: CE (CEI 61236-1, CEI 61236/A1)
- Power Consumption: <0.4W

Micrologger Systems: Microloggers are complementary to MULTIVOIES to store data with fully stand alone and low cost devices. They are packed in a very small housing with no screen, no button and communicate with a PDA using infrared beam. The technical specifications of the sensors are identical to those from the wireless sensors (see table above).
Micrologger Temp : for Temperature data logging
Micrologger Temp/Hygro : for Temperature and Humidity data logging
Micrologger Lamp : for Lamp on time data logging (the light sensor must face and be closed to the lamp)
Micrologger Enerplug : for electrical consumption data logging of devices on plug

Battery life time: 1 battery CR2032. 3 years. Storage capacity: 65536 data. (455 days at 10 min. time step and 227 days for Temp/Hygro)
Reference Conditions:
Ambient temperature: +23°C +/-5°C
Humidity: < 80 %
Display: on a PdA (Palm compliant), display refresh: 0.5 to 1 Hz
Recording time step: 1 second to 1 hour
Power supply MULTIVOIES: using one of the 3 phase of the concentrator Voltage probe.
Electrical Power MULTIVOIES: <1W (for 2 modules, i.e. 12 current channels)

Normal use conditions :
Running temperature: 0°C to +40°C
Storage temperature: –10°C to +60°C (without batteries)
Humidity : 80 % maximum, without condensation
Altitude : 2000 m maximum
Mechanical Resistance: IP 20